When Facebook Marketplace was first launched in 2016, it was only available as a peer-to-peer shopping marketplace. Many sellers still aren't aware that Facebook Marketplace expanded in 2019 to include merchant selling. It's a rising opportunity for brands to capitalize on the interactions between the 800 million active users already taking place on Facebook.
Facebook Marketplace now empowers e-commerce sellers to create listings without the hassle of finding and joining the right Facebook group.
As word gets out, brands and retailers are starting to take advantage of Facebook Marketplace to reach the platform's massive audience. (However, Facebook Marketplace is currently available only for US merchants.)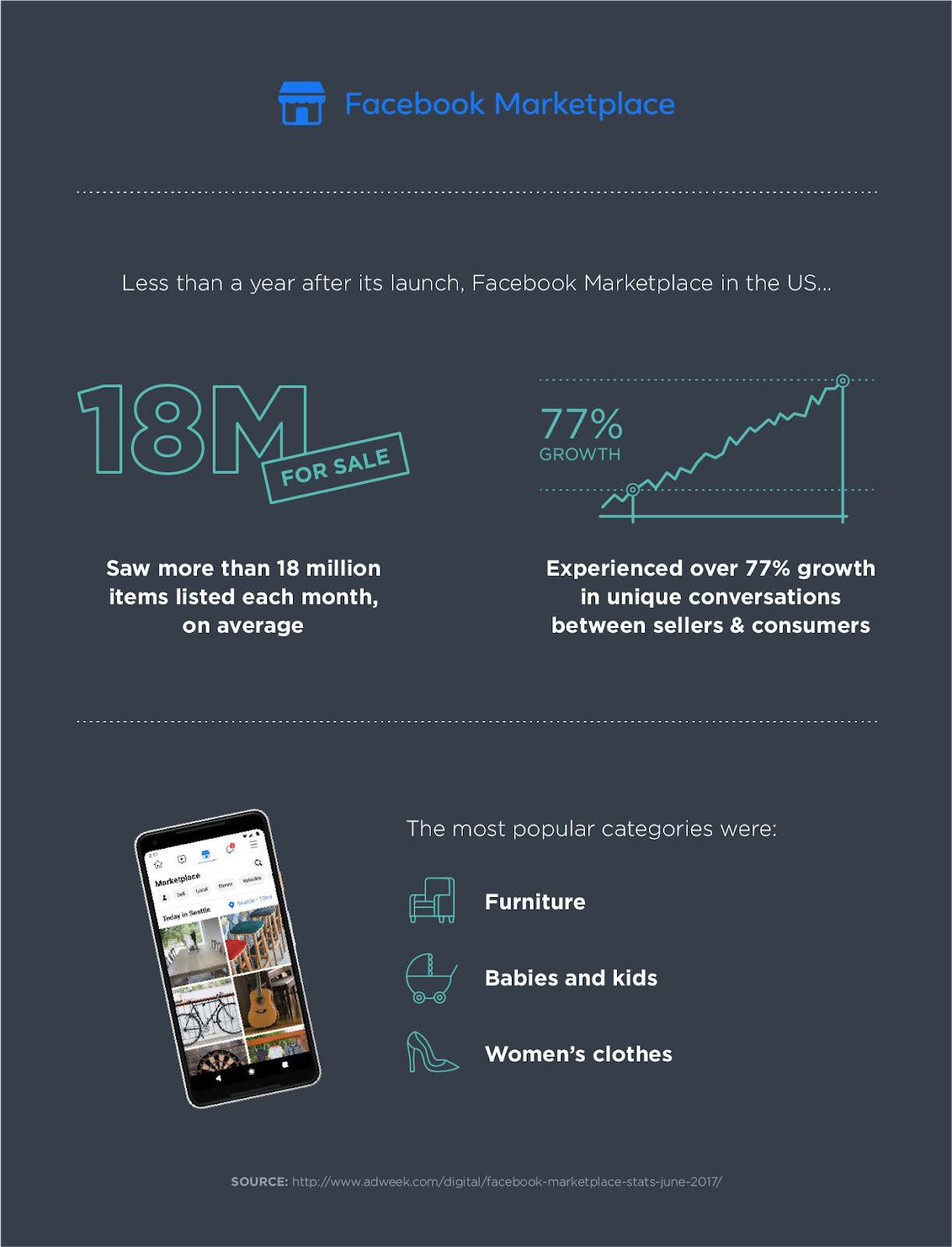 Why users like Facebook Marketplace
Convenient
Because most of them are already there browsing for updates from friends or groups in their news feeds, the quick link over to Marketplace is a convenient destination for Facebook users to discover, buy and sell items.
Highly searchable
People can find what they're looking for by filtering their results by location, category and price.
Highly personalized
Marketplace items selected by Facebook's algorithms appear in the sidebars of a user's News feed, alerting them when an item of a type they've shown interest in before is posted for sale.
Why brands are loving Marketplace
A Buyer Intent paradise
Reaching consumers at the exact point at which they intend to buy something is a huge boon for conversion rates. And, usually, it's pretty difficult to achieve on a large scale. But on Facebook Marketplace, every consumer is ready to make a purchase.
Marketplace also empowers brands to cut through the noise to engage interested consumers, collect feedback on new offers, and build trust and reach within Facebook's massive audience.
A low-risk product testing ground
Another valuable feature of Facebook Marketplace is that there is no initial cost to create a listing. This allows you to test out new products risk-free, and without lengthy A/B testing.
Once you create a listing (see below) you can start tweaking the settings and see what brings in the best results. You can also experiment with different pricing, exclusive deals, and even special discounts.
And if you want to get a feel for what sells best on the platform before you even start making listings, you can always check out the "Top Picks" sections for each category.
Facebook knows everything about their users: What they buy, what music they listen to, where they vacation, what size they wear, what they had for lunch yesterday, and plenty more. Creepy as this may be for the user to have such a transparent life, Facebook has made it a boon for advertisers who enjoy improved reach and ultimately, higher conversion rates.
Brands and retailers can use Facebook Marketplace in three different ways: They can create free listings for their products (this option is the most limited for e-commerce businesses outside the U.S.), boost their listings for extra exposure, and purchase placement ads. Let's go over this process and its ideal progression.
Start with a free product listing on Facebook Marketplace.
While Facebook doesn't limit the types of items individual users can sell (within reason), it's important to remember that only certain types of businesses are allowed to sell on Marketplace:
Auto and furniture dealerships
Real estate businesses
Retail and e-commerce businesses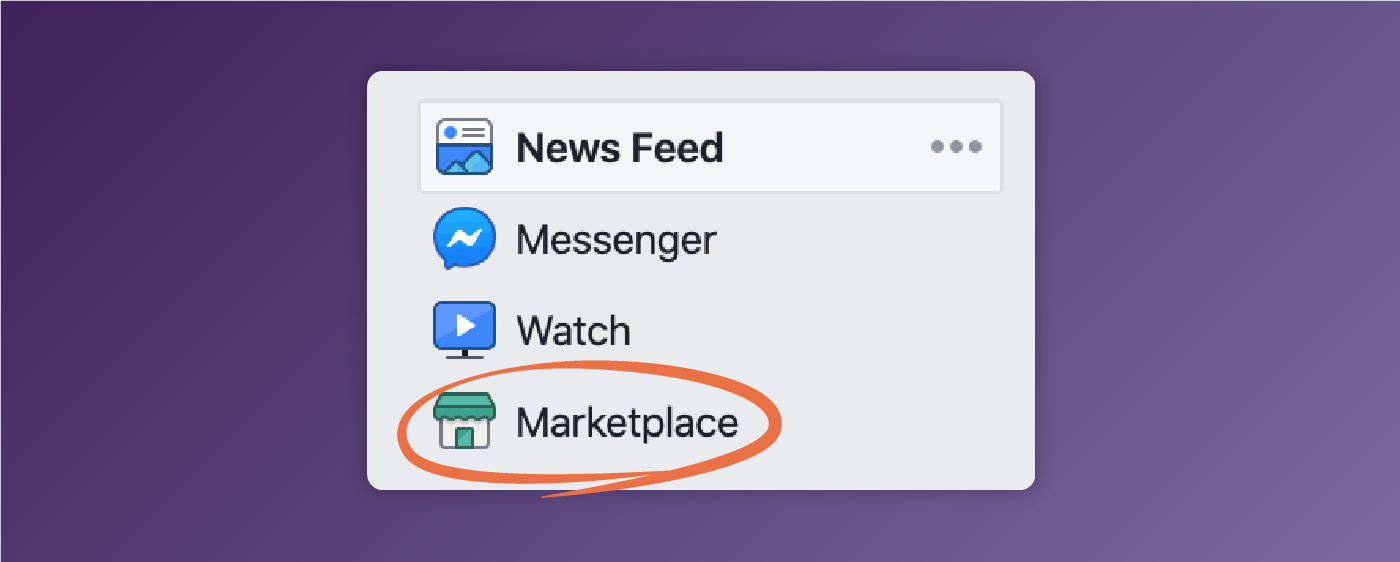 Once you're in Marketplace, list your items by clicking the "Sell Something" button in the left-hand sidebar: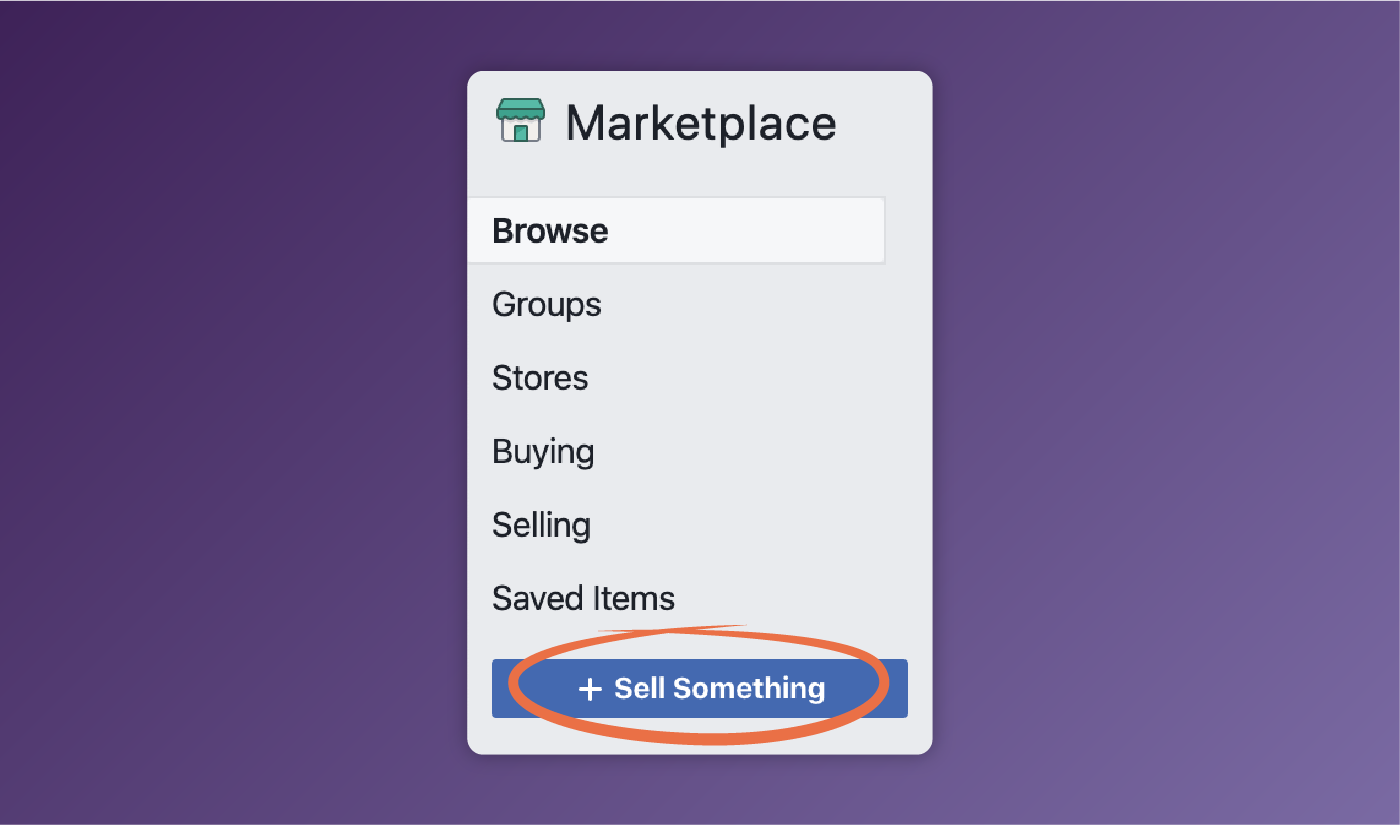 Know the Facebook Marketplace categories.
Individual sellers and brands alike may sell items if they're in any of these categories:
Classifieds
Clothing & Accessories
Deals
Electronics
Entertainment
Family
Hobbies
Home & Garden
Housing
Vehicles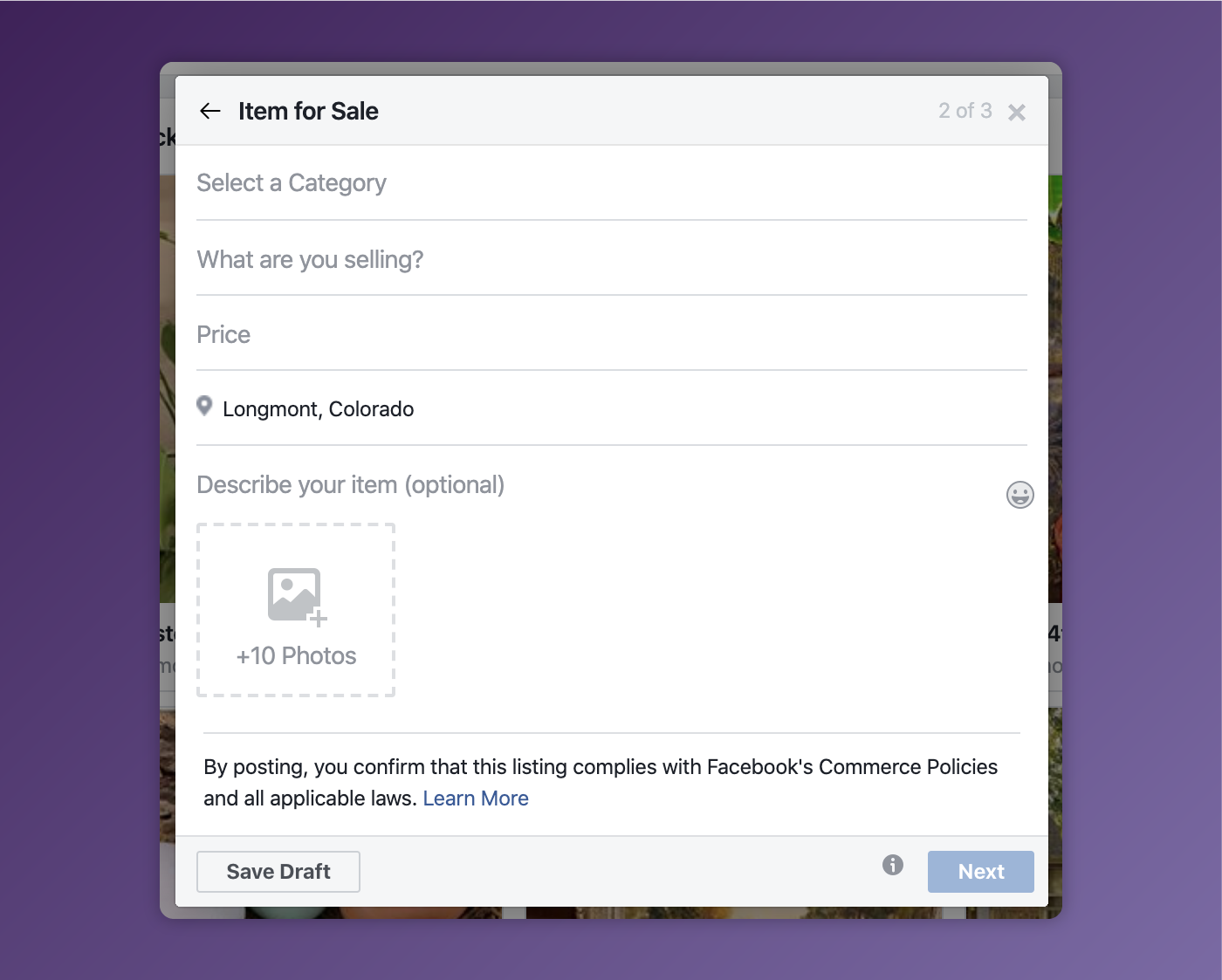 Your listing will be visible to everyone in the geographic area(s) you specify. This means that if you want better conversions, you should optimize for local sales by adding the place name to your keyword phrase.
Products listed have to comply with Rules and Policies.
Besides the usual prohibitions on sales of illegal products, firearms, tobacco, alcohol, pornography or live animals, you can't sell health care products, event tickets, or electronic devices through Marketplace. Also:
Any photos of the item must match the description and title of the listing, and
Items for sale on Facebook Marketplace can't show before and after pictures, such as weight loss products or lawn treatments.
Boosting your Facebook Marketplace listings
If you sell both online and from a brick-and-mortar store, boosted listings will appear to all users in the store's nearby zip codes. This is the easiest way to attract more traffic to your listing.
Select the listings you want to boost.
Create your campaign just as you would for boosting a post in the Facebook news feed.
Click on the listing in Marketplace and select the "Boost Listing" option:

From there, you can set a budget, choose how long to run your ad, select payment method, and preview your boosted listing before it goes live.
The boosted ad will automatically populate the price, title, photos, and description from the original listing. This kind of ad is different from regular Facebook Ads in Marketplace. (See below.)
Then review, and select the best performers for the next tier.
After several days, Facebook will begin feeding you stats on the performance of your boosted listings: number of people reached, total spend, and days elapsed in the campaign.
Based on this information, you can determine which one of your boosted listings performed the best. The next step then is to create it as a Facebook ad, and use Facebook's automatic placement option for scaling your reach.
How to sell on Facebook Marketplace with regular ads
Unlike the process for boosting posts described above, you create placement ads the same way you would create ads in your regular Facebook Ads Manager.
You'll start in the same place: navigate to "Advertising on Facebook" in the drop-down menu on the far upper, right-hand corner of your screen: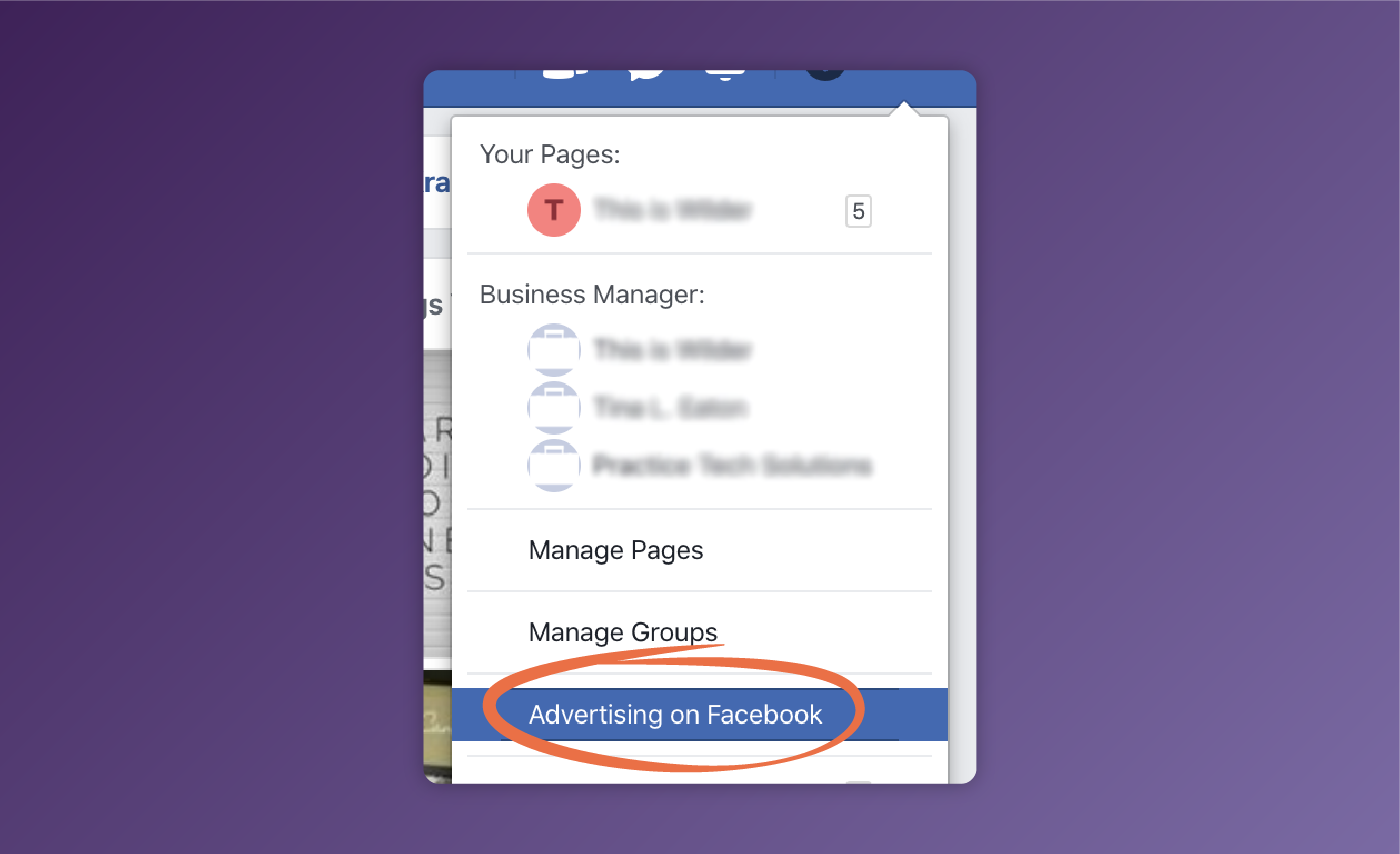 What you see next will depend on the kind of page you're created an ad from. and whether this is your first ad placement. Either way, follow the prompts to create your ad.
Here are Facebook's general instructions for ad creation:
In your Ads Manager account, choose "Brand Awareness," "Reach," "Traffic," "Video views," "Lead generation," "Event responses," "Messages," "Conversions," "Catalog sales," or "Store traffic" as your objective and click "Continue"
Choose your destination
Choose your audience, define your targeting options
Choose "Automatic Placements" or, at such time that option becomes available, choose "Marketplace" as the destination for your ad.
Set your budget and schedule.
Choose your format from video, image, or carousel (several rotating images). Facebook recommends that single images be 1,200 x 628 pixels and for carousel images, 600 x 600 pixels.
Click "Done," and then "Place Order." Your ad will begin displaying once it's approved by Facebook's ad review team.
Making the most of your Facebook Marketplace experience
Creating listings and ads on Facebook Marketplace enables brands and retailers to reach consumers with strong purchase intent, test out new products practically risk-free, and broaden their reach across Facebook's global audience.
When a single online product can have as many as 200 attributes, that adds up to thousands if not millions of data points to create, optimize, and maintain for a whole line of products. Feed syndication paired with a good product information management system automates that process for you.
Shoppingfeed is a single platform to list, sync, and manage your products, inventory and orders, We connect e-merchants with the world's largest marketplaces, adspaces, affiliate channels and shopping engines, including Facebook for Business.
Contact us for more info: contact@shopping-feed.com (920) 333 3488 Follow us on Twitter: @shoppingflux